Entries in Instructor/Studio Profiles (34)
We stumbled across this Pilates video clip on YouTube recently and had to find out the story behind it. It's clean, crisp and professional—and an exciting example of what's possible with Pilates. The fast-motion Wunda Chair sequence is especially amazing. It was produced by Louise Taube, a Polestar- and STOTT Pilates-trained studio owner in Melbourne, Australia. Click the link below to read our interview with her.
Posted
on Friday, September 7, 2007 at 12:01PM
by
Amy Leibrock
in Business Ideas, Equipment/Resources, Instructor/Studio Profiles
|
1 Comment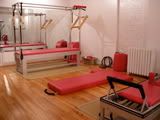 Centered
114 West 14th Street, 2nd floor
New York, NY 10011
212-633-1233
info@thecentered.com
www.thecentered.com
By Jenny Sherman
Adding Value for Women
Limiting your client base may not seem like a smart business decision. But for Karrie Adamany, a certified instructor and founder of Centered, opening a Pilates practice catering solely to women was her raison d'être.
"I decided I wanted a place not just for moms, but for all women," she says. "A place to focus on yourself—just a place to go hang out. I thought it would be great to have programs like discussion groups, nutritionists, workshops."

Posted
on Wednesday, May 2, 2007 at 11:35PM
by
Amy Leibrock
in Business Ideas, Instructor/Studio Profiles
|
2 Comments
By Michele Larsson

Pilates instructor Michele Larsson has practiced the Pilates technique for 37 years, learning much of the work in sessions with first-generation instructor Eve Gentry. Larsson has spent much of her career preserving Gentry's rehabilitative style of Pilates: She founded Core Dynamics Pilates and operates a teacher training program in Santa Fe and many other satellite locations. Larsson also teaches workshops internationally and at conferences. In this article she recalls her work with Gentry, as well as the first-generation instructor's interest in working with young students.

Eve Gentry, 1909-1994, is often remembered as a Pilates instructor who taught at Joe Pilates's New York City studio and New York University School of the Arts before retiring to Santa Fe, New Mexico. But Eve, a trained dancer, also taught dance In New York at the YM/YWHA, The High School of Performing Arts, and at The New Dance Group and performed with Hanya Holm and her own Eve Gentry Dance Company until 1968. Like many of her peers, this first-generation was strongly influenced by both dance and Pilates.
Posted
on Monday, March 19, 2007 at 04:09PM
by
Jessica Cassity
in Instructor/Studio Profiles, Pilates History
|
2 Comments
For an introduction to the Ron Fletcher style of Pilates, I paid a visit to Pat Guyton Pilates, Inc, a studio in the Boulder, Colorado foothills that educates students and teachers in the Ron Fletcher Work. Guyton who is also Vice President of the Pilates Method Alliance, showed me around the studio, which she shares with Jonathan Oldham Physical Therapy. After the quick tour, we got to work.

Posted
on Wednesday, September 20, 2006 at 08:40PM
by
Jessica Cassity
in Instructor/Studio Profiles
|
2 Comments