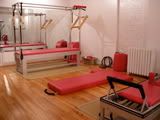 Centered
114 West 14th Street, 2nd floor
New York, NY 10011
212-633-1233
info@thecentered.com
www.thecentered.com
By Jenny Sherman
Adding Value for Women
Limiting your client base may not seem like a smart business decision. But for Karrie Adamany, a certified instructor and founder of Centered, opening a Pilates practice catering solely to women was her raison d'être.
"I decided I wanted a place not just for moms, but for all women," she says. "A place to focus on yourself—just a place to go hang out. I thought it would be great to have programs like discussion groups, nutritionists, workshops."

Thus, in October 2005, Adamany opened Centered: a cozy Pilates studio near New York City's Union Square area. Bright splashes of color, textured décor and diffuse lighting warms the tidy, spare space, which overlooks 14th Street. Two main studio spaces—a mat room and another with equipment—are supplemented with rooms dedicated to non-Pilates activities: a reading room and a skincare and massage area.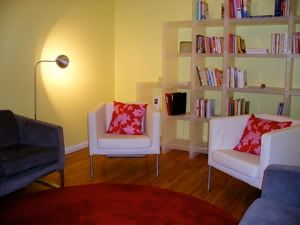 If it seems like Centered is trying to be more than just another Pilates studio, it's because it is. Clients can lounge in the library, sipping tea and browsing through books and magazines on childbearing, pregnancy and women's health issues. After workouts, some sign up for a holistic facial, offered by an independent therapist who rents the massage space. Discussion groups cover topics such as becoming a new mother or transitioning into your 40s. A resident nutritionist offers healthy eating consultations. In April, the studio hosted a movie screening on motherhood and inequities in the workforce. The place is as much about strengthening women's bonds as much as their bodies.

Evolution of a Studio
Adamany's initial inspiration for the studio came from her own post-pregnancy woes after the birth of her son in 1988. "Everything was droopy and saggy—even when you lose the weight, you're not toned," she says. She received a gift certificate for Pilates sessions and had a revelation. "I went, I felt great, I felt energized," she says. "This was like gold because as a new mom you're just exhausted."

So enthralled was she that she became certified as a Pilates instructor by Romana Kryzanowska in 2001 and co-founded her first studio (Pilates Edge) that same year. She co-authored The Pilates Edge: An Athlete's Guide to Strength and Performance (Penguin, 2004), wrote another book, Post-Pregnancy Pilates: An Essential Guide for a Fit Body After Baby (Penguin, 2005), and founded ab lab®, a service that offers Pilates instruction in private residences and hotels.

But Adamany still wanted to explore the ways in which a Pilates practice could create a supportive environment for new mothers and other women. It wasn't until a client heard her ideas and offered to become her business partner that she was able to realize it.

"When I was setting this up, I could just have opened another Pilates studio—that would have been fine," she says. "But anything else you can throw in is great. It gives people more reason to come back."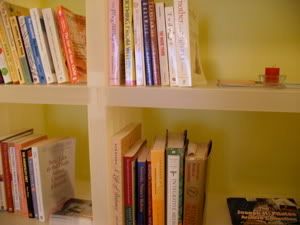 Some of Adamany's special added-value touches include developing Centered on Moms™, a Pilates program specially designed for new mothers who want to get fit after pregnancy and childbirth. Massage and fascial bodywork, as well as the nutrition consultations and group discussions, are all coordinated by others; Adamany sticks with Pilates training and running the business.

A Mature Audience
Adamany has recently been seeing quite a few clients in their 60s and 70s, which she is thrilled about. Making Pilates accessible for an older client base is a challenge for any instructor, but having a welcoming studio makes it easier. One client in her 60s came to Centered and liked that it was a safe, noncompetitive place for women. Still, "She had a lot of fear," says Adamany. "The first time she walked in the door and started talking to me, I thought, it's entirely possible she'll never come back again."

She did, however, and has been coming regularly for months. "She's totally into it, loves it, feels great," Adamany says. "She went hiking in Switzerland in the mountains, and she says she couldn't have done it without Pilates."

Even better than a loyal client, however, is one that contributes to the success of your business. This particular woman not only inspired Adamany to create specialized Pilates classes for older women, but also brainstormed with her on appropriate titles (they landed on "mature"). The reception for these classes, which involve a lot more stretching and movement for joint fluidity, has been great. The only problem so far: attracting more "mature" clients. "It's harder to target that market," says Adamany, "because where are they hanging out?"

Consequently, Centered eschews formal advertising and relies strongly on word-of-mouth publicity and walk-in clients, as well as leaving fliers in pediatric and OBGYN offices, schools and similar organizations frequented by women.

If she had to pick something to do differently? "I would have had a much tighter marketing plan," she admits, describing one that spans an entire year and allocates funds throughout to plan for events long-term.


Karrie's Pilates Business tips:
• Talk with your clients—they can be great resources. "I've had some clients say, 'I've got some extra time on my hands,' 'Have you ever contacted this place? Checked out this website?' or 'I know this woman who does prenatal massage—she would have some great clients."
• Look outside the Pilates world for business advice. "I didn't seek out advice from other Pilates studio owners. Where I looked to people for advice was friends or family members who were entrepreneurs. Perhaps they had worked in different kinds of areas, but they had done a business plan."

• Fawn over your focus groups. "We called on our friends, bounced ideas off them without annoying them, and served wine and snacks in the focus groups. They were all productive."

• Imbue your studio with your personality. "If you're opening a studio, put your personal stamp on it. I've been to studios with fluorescent lighting and machines all lined up. This is your own space—people should be able to relate to the person through the overall concept of the space. It's a very personal thing."

• Don't forget to center yourself. "I'm here almost 70 hours a week on average. Obviously, you want your business to be successful, so you'll do anything you can to make it a success. But the reason you became a teacher in the first place is it helps you feel balanced and you can transfer that into life. You have to do that, otherwise it eats you up. Take time for yourself."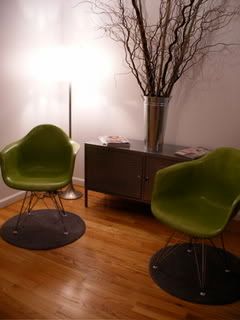 Posted
on Wednesday, May 2, 2007 at 11:35PM
by
Amy Leibrock
in Business Ideas, Instructor/Studio Profiles
|
2 Comments
View Printer Friendly Version
Email Article to Friend